Customer Review
5.0 out of 5 stars
By tim b on April 27, 2017
Format: Paperback|Verified Purchase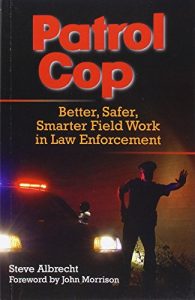 Dr. Albrecht as he's now known has been a Police Officer and Educator for many years. This is his FOURTH book in a series of 'street-wise' manuals for professionals. As an educator his work has been very well researched and received. What I was unaware of until recently is that Steve and another officer are/were responsible for the Contact & Cover concept and initial roll-out to their department. It relates to addressing the problems faced by officers everyday and is still needed and in use today! In this book, the concept gets an update – just great news. The world needs more men like this to keep our sons & daughters, brothers, mothers, sisters and fathers safe. The world has changed since his first book came out, but his knowledge is there to reap benefit from. So very glad that I was able to find this, and complete my SA library with.
© Copyright 2017, tim boehlert