Customer Review
5.0 out of 5 stars
By tim b on November 5, 2017
Format: Audio Cassette|Verified Purchase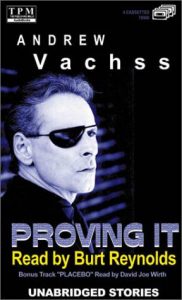 I bought this Andrew Vachss recording out of curiosity. Reading his works you'll hear your own voice in your head as you venture into some dark places. Hearing Burt Reynolds interpret this volume of shorts is very cool – too bad it's OOP, as I'd love to have it in the car on a CD! It's now put away for safe-keeping and maybe one day….
© Copyright 2017, tim boehlert