Customer Review
5.0 out of 5 stars
By tim b on July 25, 2015
Format: Kindle Edition|Verified Purchase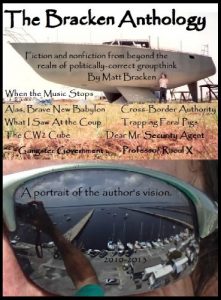 Matt's Anthology is very thought provoking, and well worth the read. I haven't given current life much of a thought for awhile, but his writing is changing all of that. I just finished reading his 3-Volume outting, and picked this up to continue a very good read. Matt has a sharp mind, and his fiction will make you ponder, hopefully long and hard. His non-fiction glimpses are worthy too.
© Copyright 2015, tim boehlert