Customer Review
5.0 out of 5 stars
By tim b on April 27, 2017
Format: Paperback|Verified Purchase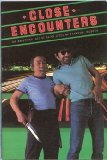 Who doesn't love Tak Kubota? I remember finding him back in the 1980's – through his Kubotan and shot training manual available through Monadnock. For a young man it was a big deal. This book is about a little known art known as Taiho Jutsu. Great stuff!
© Copyright 2017, tim boehlert