Customer Review
5.0 out of 5 stars
By tim b on November 5, 2017
Format: Kindle Edition|Verified Purchase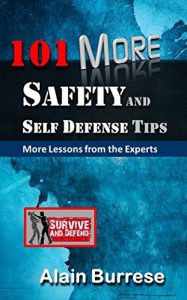 Alain is a friend. End of full disclosure. Alain is a very talented Martial Artist and educator. I own almost all of his output – books, and DVD's and now e-books. He has accumulated a lot of great info once again for this volume. Safety and Self-Defense are two areas of his expertise. Just two. His style is easy to read and the price is easy on your budget and guaranteed that you'll take away something you didn't know before and can use in the future, if not right now!
© Copyright 2017, tim boehlert