Logically Emotional in Parkland: A Unique Perspective
Kevin Reichard
I've just finished a read of a soon-to-be-released book that tells one family's story about the mass killing of students and faculty on February 14th, 2018 at the Marjory Stoneman Douglas High School in Parkland, Florida.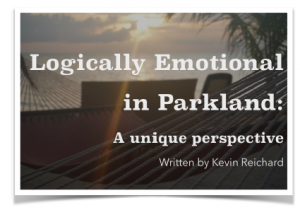 The book kept me fully engaged because of how it was written as much as for why it was written. Within a few short hours I had consumed 3/4's of it—in one sitting. It was that riveting.
I have studied Active Shooter events since that term/label came into general acceptance many years ago. I've done a lot of research on the subject since 2012, and have read a lot of the how-to books, attended some of the local AS training seminars as well as that training provided to the public by the DHS, and I've pondered many of the difficult issues surrounding these events for the ensuing years.
I have my personal thoughts, and have come to some of my own personal conclusions. I also have zero first-hand experience, like most of us.
What makes this book unique is partially because of who wrote it. That can also be split again into because of who wrote it. Confused? The author is the parent of 2 of the students that were in the school when the event happened, and the uncle of another one. He's also easily more studied on AS events than most of us, which comes into play.
I hate to call this book a story but it really is. It's a first-person's view from the ground of what happened that day in a small community where too many believed that something like this could never happen.
I literally ran through most of this book because it was that captivating. It drew me in, and held onto me. I couldn't stop, and I didn't want to either.
Okay, so the core of this book is about the family. How this event changed lives, changed ideas, changed plans, changed perspectives, and changed kids that weren't ever prepared for this. There is just such a great model here of what the American Family symbolizes to many of us. It's a firsthand look into the atomic family—a dad that works hard to support his family, maybe with an un-conventional day-job, but I guess that depends on your outlook. A mother that gives back to the community in her own way and through her job. Two sisters that are on the verge of adulthood, but maybe just a few short years away.
Here's the fallacy: The thing that will never happen here… does.
It all starts with a text message…
Through the first few minutes, then during the course of the ensuing hours you will learn what it could be like for you, for your family.
One major difference from this point on is that you start to learn more about how this family functions—so many differences from the 'norm' that I'd guess most families adhere to. There is so much to learn from because of those differences though.
There truly is a lot to be gleaned here. Lessons that we need to pay attention to, and ultimately a conversation that needs to be had.
Having no expectations going in, I came out having my own at the end of the book, and here's my hope: I hope that you will purchase this book first and foremost for the best reason possible. Secondly, I hope that you'll see it for what it has turned out to be—a call to all of us to come together to find workable solutions that will save lives. Thirdly, I hope that you'll start to consider that we're all in this together—even if and when we don't agree on certain specific issues. We need to solve this together, there is no other alternative.
My thanks to the author, and to his family for sharing an event that had to be doubly difficult to re-live through this books birthing process. As tragic as the events were, it is uplifting to read and hear such a strong message from those who could have as easily turned away, and left us all with nothing more than speculation, and bad information that is all too often spoon-fed to us by the media—and with their agenda in mind, only.
©Copyright 2018, tim boehlert