Warnings Unheeded: Twin Tragedies at Fairchild Air Force Base
by Andy Brown
Andy Brown has written a captivating account about a pair of tragedies that occurred at Fairchild Air Force Base in 1994, and within days of each other. One is an Active Killer story with mental health issue underpinnings, and the other is a story of denial, privilege, abuse of authority, and the good-ole-boys-network syndrome. Both stories have tragic endings, that left me unsettled and with too many questions. Both stories also offer great insights and information, and both offer great lessons to be studied and learned – if we're strong enough and smart enough to do that.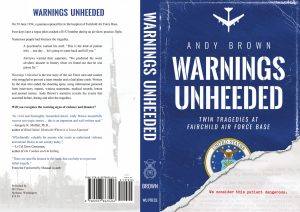 Reading this book brought back a lot of (bad) memories, and frustrations that I'd experienced over an almost 9 year career working in a regional health-care facility as a Security Officer.
Andy interweaves the two stories throughout his text with ease. The first story captivated me as it was at times like reliving some of my past experiences in mental health. In this story you will learn something about mental health illness. You will also learn about 'the system', and how difficult it is to diagnose a mental health illness in the first place, but also how difficult it then becomes to treat something that hasn't been clearly defined, nor clearly agreed upon by teams of mental health-care professionals.
You will also learn about how 'the system' can be and is manipulated – by both patient and provider.
Clearly we all lost in the end. The price was paid by too many, and that price is still being paid – by too many and for far too long. You will encounter many who stepped up and used their talents to save lives, including the author himself. You'll experience the chaos that surrounds these events, as if you were there as it unfolded. Hopefully you'll see and perhaps understand better, and likely for the first time, what price is paid by those we call hero. You'll definitely feel like you're in the story as it unfolds.
The second story unfolds simultaneously, but in what may seem like a totally different world. You'll see and understand how power corrupts. How despite denials that the signs were there. Many, many others saw and reported their discomfort in what they'd seen and or experienced. How one man risked his career to stop the madness that ultimately cost the lives of more innocents. You'll learn more about the inner workings of a government entity, how rank and idolization blinded too many (in postions to STOP the madness) for too long, and for the wrong reasons.
There is a lot to process in this book. The ending chapter pages were personally very disturbing to me. It made/makes me mad, and sad, but I hope that it opens the eyes of some, and starts new conversations – with new insights, and better information.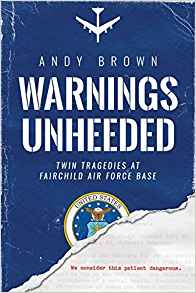 There are those among us that step up for all of the right reasons, and do what we can't or won't do. We owe it to them to either educate ourselves BEFORE we speak or to remain silent until we know better. Those very same people deserve our respect and our support, for they pay a cost we can't comprehend and don't necessarily see.
© Copyright 2018, tim boehlert