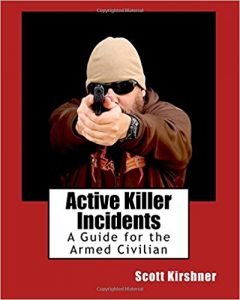 Scott has written another really good book here! In this volume you will find some great components to be considered if you ever face an Active Killer event, but the knowledge and tools herein could be helpful at almost any accident scene and more. While the title specifies that it's slanted towards armed citizens, the information here could be used by anyone – armed or not. I could see this guide being useful to ANY Healthcare professionals – trained or untrained. For Security Professionals, this should be a MUST READ, period.
The book is setup in components. It's the first book that I know of that outlines HOW TO hunt down an Active Killer. It's also the first to talk about room-clearing techniques IF you decide to step up and take the killer down. There are guides for EDC, solo and group tactics, CC options, and finally a full set of First Aid and Trauma Care components to be considered along with recommendations on some tools you may wish to consider.
Scott's done a great job of compartmentalization here of some very handy information. No one book could possibly cover ALL of the material necessary to be prepared, but Scott has presented enough here to get you thinking and planning for positive outcomes.
I recommend this become a part of your learning system. If you're in the position to push this to your admin, do it. If you're a concerned citizen, you'll get a lot out of this that you can use should you ever need to. As I said, it's not just relevant to an AK event, but a lot can be used to make you better prepared for other events and disasters.
Thanks Scott for the mind-dump! Great job, again!
© Copyright 2018, tim boehlert